The Colour Monster
The Colour Monster
14 October 2020 (by admin)
This week we have been talking about our emotions.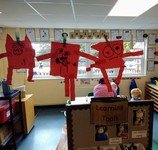 After reading the story of 'The Colour Monster' we discussed the feeling of anger. We talked about how it feels inside our bodies and what it might look like on our faces and bodies. We began to think about what we could do to help us feel calm again.
What do you like to do at home to help you feel calm?