Diwali
Diwali
18 November 2020 (by admin)
Diwali time is here again!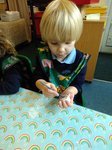 This week we have been finding out about Diwali Celebrations.
We used clay to make our own Diva Lamps. It was great fun exploring the clay and using our funky finger exercises to help strengthen our fingers. We were great Solveadactyls, shaping the clay and making sure our Diva lamp was the right size to fit the candle.