Beanbag Challenge
Beanbag Challenge
23 April 2021 (by admin)
This week, during our outside games session we explored improving our underarm throwing!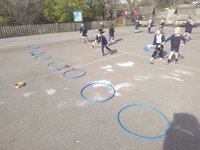 What makes a good throw?
We worked with our partners to up level our throwing skills. We were great at using our bent leg and straight arm to improve our throw. As well as enjoying the glorious sunshine, we also took part in a challenge to see how far we could throw the beanbag!
Can you remember what happened?