Superworm!
Superworm!
10 May 2021 (by admin)
Superworm is our class text this week.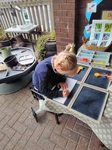 After sharing the story, some of the Explorers decided to use their creative skills to make some of the characters from the story.
They were brilliant at looking at the photographs and noticing the different body parts. Part of the challenge was to write a sentence to describe the mini beast. They were amazing Tryatops, up levelling their sentences with wow words!
Can you name all the characters?