Planning Our Kites!
Planning Our Kites!
14 May 2021 (by admin)
In DT we have been testing suitable materials to make a kite!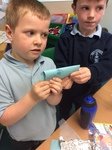 We have tested tissue, foil, plastic bags and card to see which material is the most suitable to make a kite! We tested them by checking if they were waterproof, if they could rip, if they were strong or if it would stretch. We found out that the plastic bags and the foil would be the most suitable as they were strong and waterproof!
Next week we will be designing and making our kites!