Odd or Even?
Odd or Even?
23 June 2021 (by admin)
This week we have been learning to apply our knowledge about odd and even numbers!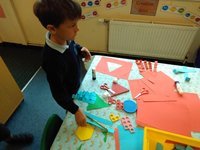 We created our own odd or even monsters. We had to be brilliant Solveadactyls to decide if our body shapes were odd or even.
We added arms, legs, eyes and horns, building on our cutting and joining skills. We used the numicon to check our thinking. We know that even numbers have a partner and odd numbers have a one left over!
Is 9 an odd number? How do you know? How can you prove it?