A Surprise Visitor!
A Surprise Visitor!
22 September 2021 (by admin)
The Explorers were very surprised to find a sleeping hedgehog hiding in their construction area!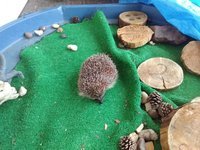 During the course of the morning the children enjoyed observing the hedgehog snuffle around. They were amazing at using their noticing skills and were enthusiastic in using their talk skills to share their knowledge. They asked great questions, made models, created their own pictures and learnt a new poem. At the end of the morning, we found a new home for the hedgehog!
Can you remember what 'nocturnal' and 'hibernate' mean?