Have You Filled a Bucket Today?
Have You Filled a Bucket Today?
14 January 2022 (by admin)
This week during circle time we have been thinking about how we can show kindness to ourselves and our friends.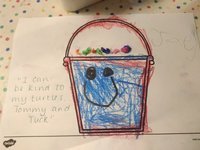 After reading the book, we found out that each person has an invisible bucket. This bucket can be filled by carrying out kind acts and using kind language. As a class we reflected on our day, thinking about how we had filled our own buckets and the buckets of our friends. We used our creative skills to design our own buckets too!
Are you a bucket filler? Have you filled someone's bucket today?