Snowflakes
Snowflakes
17 January 2022 (by admin)
As part of our learning about cold places we investigated snowflakes.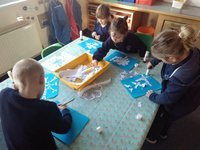 Just like us, each snowflake is unique!
Our funky fingers challenge this week is to 'tear' and 'rip' paper to create collage pieces. This activity is great for developing the muscles in our fingers to help us become amazing writers.
First we designed our own pattern. We were great at being a Stickatops, planning and adapting our ideas.