Safer Internet Day
Safer Internet Day
8 February 2022 (by admin)
To celebrate Internet Safety Day, we read an e-book about DigiDuck!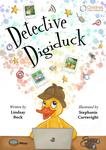 We found out that not everything written online is true and we need to question what we read on the internet.
We thought about the different ways we can check the facts that we find online. We decided we could use another website, look in a book or talk to an adult or friend to see if the fact is true.