We're Going on a Shape Hunt ......
We're Going on a Shape Hunt ......
22 March 2022 (by admin)
Over the past two weeks we have been exploring 3D shapes.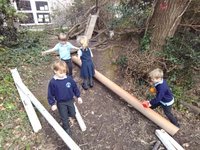 We enjoyed going on a Shape Hunt around school, armed with our own 3D shapes. We were amazing Solveadactyls when matching, naming and describing the properties of the shapes. Much fun was had when we came across some guttering in the forest area. The children were very curious and keen to explore which shapes would roll or slide!
'This cube will slide, it has flat faces,' said one of the Explorers! Amazing 'Prove it Panda' talk skills.
Which 3D shapes can you spot at home?