Pirate Party!
Pirate Party!
13 July 2022 (by admin)
We had a fun-filled Pirate day in the Explorers!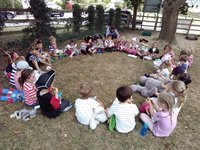 We started the day making up pirate names and learning 'pirate talk'. Can you remember what to say to get someone's attention? (Avast me hearties!) We then went on a treasure hunt, following clues to find the chest full of chocolate coins.
We had fun making pirate hats, telescopes, eye patches and maps throughout the day. In the afternoon we made a pirate obstacle course and enjoyed a pirate picnic with the sandwiches and jelly that we made earlier in the week!