Harvest Soup
Harvest Soup
31 October 2022 (by admin)
We substituted the story of the Little Red Hen to making soup.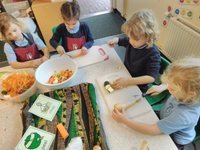 We explored the different verbs of wash, peel, chop, boil and mash and matched to different tools and equipment. Such amazing skills when peeling the vegetables. We also discussed why it is important to eat vegetables as part of a balanced diet.
Tasting the delicious soup was certainly the best part! Some Explorers had three bowls full!
Can you talk through our new story using the words and actions?