Y3 and Y4 are involved in the Big Draw!
Y3 and Y4 are involved in the Big Draw!
4 October 2017 (by admin)
Funded by the Helen Foundation, artist Claire Evans from Small World Animations has been working with our Y3 and Y4 pupils on an animation project.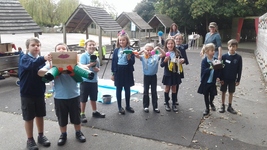 The piece is to be based on an animation called 'Big Bang, Big Boom' by Blu. Drawing our inspiration from Italian street artist and animator Blu, our project will explore making a large-scale animation in both two and three dimensions, using this year's Big Draw theme "Living Lines". The animated film will be made over two days will be edited and sounds added that will be suggested by the children. It will then ready to be shared with an audience, both at school and TAAG during the Big Draw itself, and online.