Libraries Week!
Libraries Week!
5 October 2018 (by admin)
Just a reminder that we will be celebrating Libraries Week next week! We would like to encourage children, staff and families to "Switch Off. Pick up a Book!" and discover the benefits of doing so.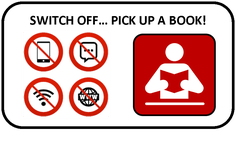 Please celebrate with us by:
• Taking part in our photo gallery. Please send in photos of how your family have chosen to "Switch Off. Pick up a Book" to the school office or via email to clerical@bishopschool.co.uk
• Joining us for our 'Open Library' afternoon on Thursday 11th October from 2:45-3:45. Have a look at the photo gallery, browse our books and learn more about the Accelerated Reader system. You might even like to take a quiz with your child
.• Taking part in our 'Parents Book Swap'. We have already had some donations of books so please feel free to come and pick up a new title to enjoy from our library.
We look forward to sharing updates to let you how we've been celebrating in school and can't wait to hear how you've been celebrating at home!