Libraries Well-being Week: Day 1!
Libraries Well-being Week: Day 1!
8 October 2018 (by admin)
"Switch off: Pick up a Book!"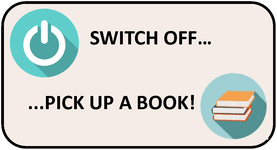 "It's going to be very hard for us all to 'Switch Off' - but I'll give it a go!" ~ Ben, Junior Librarian
I'm sure lots of us agree with Ben - it's not always easy to choose a book over technology but we challenge families to give it a go this week and see how it feels!
Another of our Junior Librarians, Alice, came up with a great tip:
"If you have a certain amount of free time, why not split the time between the computer and reading. You can use an alarm to help you." ~ Alice, Junior Librarian
So why not find a cosy spot, set that alarm and choose some books to enjoy?
We can't wait to see some photos of families switching off and picking up books for our gallery.