Libraries Well-Being Week: Day 4 and 5!
Libraries Well-Being Week: Day 4 and 5!
12 October 2018 (by admin)
Open Library Success!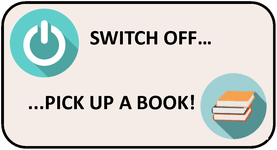 It was lovely to see lots of families join us for our Open Library event. We hope you found it useful to learn more about the library, the AR system and enjoyed time sharing books with your children. Thank you for all of the contributions to our photo gallery too - lots of very chilled out reading!
Our parent book exchange has also got off to a good start, please feel free to swap books throughout the year - just pop in after school.
After chatting to some parents whose children would like to have a go at quizzes at home, we have added the link to the 'links' section on the school app. We welcome feedback as to whether this works on your devices - please let Miss Leballeur/Mrs Fuell know! Y5/6 can also access quizzes via Google Classroom.
Thank you for celebrating libraries week with us, we hope it has inspired switching off and pick up books more often! :)