Book Tasting!
Book Tasting!
7 March 2019 (by admin)
As part of World Book Day, Pioneers and Inventors held a "Book Tasting" in our pop up 'Reading Cafes'!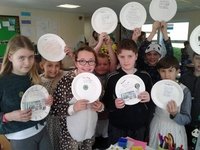 The children had the opportunity to 'taste' their peers' favourite books by looking at the front cover, hearing the blurb, finding out a bit about the story and asking questions.
They then wrote the names of any books they liked the look of on their tasting plates - which have been taken home today.
Some books were brought in from home but came highly recommended! We have made a note of these and will try to get copies for our school library in the future.
It was lovely to see children speak so passionately about the books they enjoy and motivating others to give them a try!