What a busy TIME!
What a busy TIME!
2 April 2019 (by admin)
This week we have been talking about time.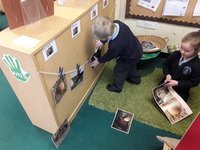 We have been sequencing familiar events, using our language to explain and order our thoughts and ideas using first, next, then and finally. We have been talking about the days of the week and sequencing pictures from our school day.
What days was it yesterday? What day is it today? Tomorrow will be..? How can you find out?
We have also had lots of birthdays in Explorers class recently! Some of the children wanted to find out which was the most popular month for birthdays, so their idea was to create a tally chart.
Can your child sing the 'months of the year' song to you?