Fun at Forest School!
Fun at Forest School!
8 May 2019 (by admin)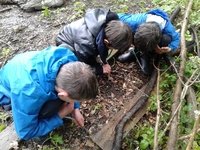 We had such fun at Forest School again this week... EVEN in the pouring rain! Potion making was particularly popular this week, as was bug collecting. Harry managed to find a baby centipede in the Secret Glade, and George managed to find a spider using a pooter! Lily-May demonstrated excellent perseverance when fire-lighting too. Please ensure your child has waterproof clothing with them on Forest School days, as we will continue to go out in all weathers. Thank you!