Mystery Reader
Mystery Reader
6 June 2019 (by admin)
Children in KS2 enjoyed our first 'Mystery Reader Assembly' today.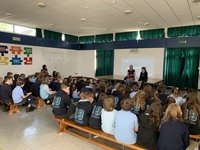 Last term, children in years 5 and 6 wrote letters inviting readers into our school. They invited a wide range of people - family members; authors; celebrities; sports stars and people whose jobs inspired them - in the hope that they would be able to join us in an assembly to read an extract from a book and talk about why reading in important to them.
We were lucky to invite our first Mystery Reader into our KS2 assembly today. Felicity Cole, Curator at Newton Abbot Town Museum, was invited by Zoe in year 6. Felicity said that the 'charming, and beautifully written letter from Zoe' encouraged her to get in contact and arrange a visit. Felicity talked about how books about different historical eras that she read during her childhood inspired the work that she does today before reading an extract from one of her favourite books. Following the visit, Felicity said " I was very impressed with the children this morning! I think it's a brilliant idea having Mystery Readers, as all the readers will have very different tastes. I really enjoyed hearing about all the books the children are reading at the moment – 'very impressive." She has also let Zoe borrow the book to finish reading - we look forward to hearing what happens, Zoe!
Thank you Zoe and Felicity. We look forward to welcoming our next Mystery Reader in the near future!