Mystery Reader
Mystery Reader
1 July 2019 (by admin)
Children in KS2 welcome our second mystery reader !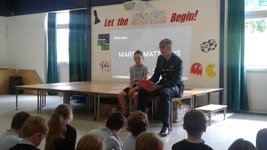 Last term, children in years 5 and 6 wrote letters inviting readers into our school. They invited a wide range of people - family members; authors; celebrities; sports stars and people whose jobs inspired them - in the hope that they would be able to join us in an assembly to read an extract from a book and talk about why reading in important to them.
We were lucky to invite our second Mystery Reader into our KS2 assembly today. Meg in year five invited her uncle, Martin Matthews, as she said she thought children would like to meet him and hear about his 'cool job'! She was certainly right! Children enjoyed hearing about his role as a navigator and how reading helped him to follow his dreams.
Martin shared a version of Paddington by Micheal Bond - a book he remembers enjoying from the classroom library at his primary school. Lots of faces recognised the story from the recent film; some children were surprised to hear that it was originally a book! We hope that hearing the story today has inspired children to read some more of Paddington's adventures!
Thank you, Martin, for taking the time to visit our school and thank you, Meg for your fantastic letter which made it happen!
Next week we are welcoming our third mystery reader - who will it be?