Fine motor fun!
Fine motor fun!
5 November 2019 (by admin)
Today we talked about keeping safe on Bonfire night.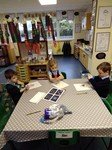 We also used our listening ears to identify the different fireworks and we used our bodies and voices to create movements and sound effects.
The fun part was icing our biscuits. We used our handwriting patterns and secret messages. A great activity for developing the muscles in our fingers and hands!