More or Fewer?
More or Fewer?
11 November 2019 (by admin)
In our maths learning we have been exploring groups of objects and used our counting skills to directly compare groups to find out which has more or fewer!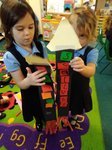 We compared our names. Who has the longest name? How can we find out? Does your name have more than 5 letters? How do you know?
We made name rockets, we used our name card to count the letters and compare groups on our five and tens frame.
We used our maths talk to help us compare and explain.
Can you find someone in your family that has a longer name?