What's the story today?
What's the story today?
13 December 2019 (by admin)
In Explorers, we love to read! Every day we get the opportunity to read and share lots of new books, we even get to 'vote' for our favourite story. This Christmas we have enjoyed our book Advent calendar!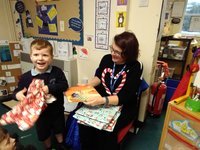 Mrs Smith our librarian has wrapped up lots of special story books. Each day we get to select, open and read a new story.
We discuss if the book is a fiction or non fiction, describe the characters and predict the story, but most of all we enjoy listening to the story.
We are also excited, as after Christmas we will be visiting the school library to select story books to bring home and share!