COLLABORATION is the Key!
COLLABORATION is the Key!
13 March 2020 (by admin)
The children have been busily completing their Sports Relief challenges all day. They have COLLABORATED together to achieve their goals.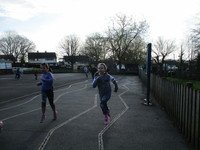 THANK YOU so much to all of you for collecting sponsorship money. As a school, we have raised one of our largest amounts ever for the charity and we still more money to come in. The School Council will be delighted to hear that our current total is £457.90!
An amazing effort from our amazing community!