Stone Age!
Stone Age!
11 September 2020 (by admin)
All Year 3/4 have had a fantastic first week back and have settled in to new routines brilliantly!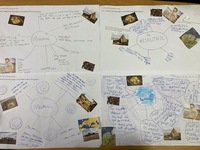 We have started our new topic and children have shown great curiosity to find out more about prehistoric times! This week, we have created timelines to show when key historical events happened before we took a closer look at the Stone Age. Children worked collaboratively to research about the Mesolithic Age (Middle Stone Age) or Neolithic Age (Late Stone Age) after learning about the Paleolithic Age (Early Stone Age) as a class. Here are some of the posters created this week!