Sorting
Sorting
5 October 2020 (by admin)
This week in our maths learning we have been sorting everything! A very important skill!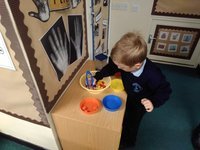 After listening to the story of "The Button Box" we shared our ideas of how we could sort the buttons using our own criteria.
Some children decided to sort by shape, colour and patterns. Our funky fingers task this week is to use the tongs to pick up and sort the beads in one minute.
Can you sort your toys at home? How will you sort them?