Who Will Help Me?
Who Will Help Me?
21 October 2020 (by admin)
Linked to our story of 'The Little Red Hen' we explored making salt dough.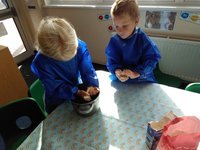 We had great fun following the instructions then mixing and kneading the sticky dough!
We also recreated some of our 'Dough Disco' moves of prodding, squeezing, stretching and rolling!
This is great for developing the muscles in our fingers, ready for writing.
Perhaps you might like to make some dough at home?