Story Voting
Story Voting
4 December 2020 (by admin)
We love to read and share books during our school day.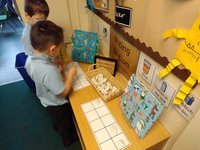 After snack, we have the chance to look through each book and vote for our favourite. This week we voted for a 'mystery' wrapped up text! We discussed who the characters might be and predicted the setting and story plot. It was very exciting unwrapping the parcel and seeing whether our predictions were correct!
Do you have a favourite story?