Bog Baby!
Bog Baby!
4 December 2020 (by admin)
This weeks forest school was so much fun!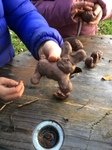 The children began by making a leaf pizza, working together to build a yellow sycamore leaf base and covering the top with many different leaves and berries. It looked very colourful when it was finished!
Some of the children made bog babies out of clay. They had to design a small creature which may live in a bog. They had to decide where it would live and what it would eat! They really enjoyed this activity and the results were fantastic!