Poetry Writing
Poetry Writing
22 March 2021 (by admin)
Over the last two weeks we have been learning about using figurative language to help us write our own poem!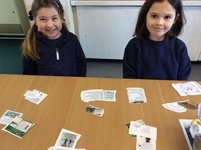 We have looked at the poem "A Recipe to Make a Wolf" to help us write our own poem about an animal from South America.
We looked at similes, comparing something to something else... for example eyes like marbles or a tail like a sword and alliteration to help us add interest to our poems.
We enjoyed thinking of sentences that had alliteration in them because they were like tongue twisters!