Red Nose Day!
Red Nose Day!
22 March 2021 (by admin)
On Friday we helped celebrate Red Nose Day by dressing as Super Heroes! It was great fun to dress up!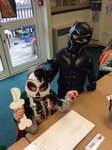 We found out about how our money helps other people. We heard the story of Ethan and that the money raised by us could help him. Ethan could attend a group called STEPS and this would help him learn to walk by strengthening his muscles.
The children decided it was good to help this charity as it could help other children like Ethan to go to STEPs.