Year 4 LOVE Beesands!
Year 4 LOVE Beesands!
7 May 2021 (by admin)
Our Year 4 children had an AMAZING day at the Forest and Beach setting near Beesands!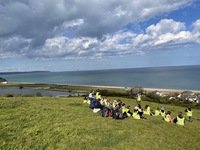 Due to COVID restrictions, we have not been able to offer our normal year 4 residential experience this year. However, we were able to go to the same setting and have a fantastic day exploring the natural world around them. The day was spent feeding the goats, using the archery range, fire lighting. toasting marshmallows, creating flags using leaves, making mud kitchen smoothies and so much more! For dinner, we walked for a mile down to the Beesands beach for some delicious fish and chips and an ice lolly. A quick play on the beach before driving home with some very happy and sleepy children!
Many thanks to all of the staff who gave up their time to support the children and help make it a very special day! Great to be once again giving our children some more special and memorable experiences that they deserve!