Year 4s Trip to Beesands
Year 4s Trip to Beesands
7 May 2021 (by admin)
On Thursday, Year 4s enjoyed a fun filled day at the Forest and Beach site before walking to Beesands Beach for fish and chips!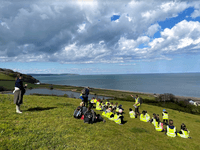 During the day, Year 4s had lots of time to explore the grounds, feed the goats, meet the chickens and play games in the young woodland. After a bacon roll, we went to the woods where we made flags, had a go at archery, started a fire using fire steels, created dens, played in the mud kitchen and much more!
In the late afternoon, we walked through the village in the sunshine before arriving at the beach and enjoying fish and chips at the local cafe. We finished our trip with time on the beach and a walk back to camp.
What a lovely day it was!