Journey to School
Journey to School
7 July 2021 (by admin)
Following on from our pirate maps, we created our own journey maps depicting our route to school.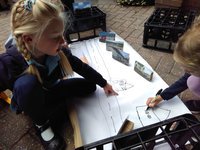 First we looked at Google maps to find our school. We then identified our home town or village. We found out that we all live in different homes, some of us in Bishopsteignton, Teignmouth, Kingsteignton and Ideford!
We identified the different features on our journey and used our photo blocks to sequence our route. We worked as a team to draw the different features along the way.
Can you use 'first, then, next and finally' to describe your journey?