Buddy Time!
Buddy Time!
22 September 2021 (by admin)
One of the special things about our school is our buddy system.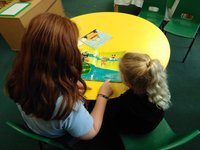 The buddies play an important role in supporting the new Explorers to make a happy and positive transition into school life.
This week the buddies came to share books and poems. The children were so excited to see each other and be together. It was so lovely to look around the room, full of smiles and children showing care, compassion and empathy for each other.
A fantastic opportunity to develop pupil leadership....but also the beginning of a special friendship!