Wildflower Art Competition
Wildflower Art Competition
24 September 2021 (by admin)
At the end of Summer term, Explorers, Voyagers and Discoverers entered an Art competition on the theme of native British wildflowers.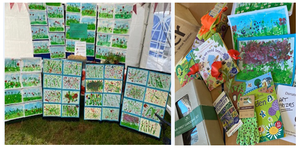 This inspired the children to explore different types of printing techniques to create pictures without using a paintbrush. KS2 children used the scrape painting technique for landscape backdrops, as well as the splatter technique to make an impression of the buttercups and dandelions.
The artwork was displayed at the Bishopsteignton Village Festival and received many lovely compliments.
As recognition each child was given a seed packet. As a team, they also won a gardening gift set for the whole school to use.
A big thank you to all the children who participated in the competition. You have made Bishop really proud!