Same or Different?
Same or Different?
6 October 2021 (by admin)
This week in our maths learning we have been exploring the skill of matching and sorting.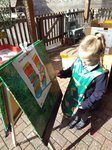 One of our challenges was to use our handwriting patterns to create a pair of socks that matched. We thought carefully about our ideas and were amazing at being a Tryatops!
We also enjoyed sorting and matching buttons. We used our 'Prove it Panda' talk skills to explain what was the same and what was different. We were brilliant at talking in full sentences!