National Poetry Day!
National Poetry Day!
7 October 2021 (by admin)
As well as our fantastic Bounce Off, we've also been busy celebrating National Poetry Day today!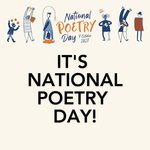 Classes read a range of poems throughout the day.
Some favourites in KS1 included "Snow Cone" by John Agard and "Brian's picnic" by Judith Nicholls.
In Years 3 and 4, some children particularly enjoyed "M" by Graham Denton, "Laughter Rap in Plastic Town" by John Agard and "Your Dresses" by Carol Ann Duffy.
And in Years 5 and 6 children enjoyed poems such as "From a Railway Carriage" by Robert Louis Stevenson, "The Listeners" by Walter de la Mare, "Jabberwocky" by Lewis Caroll and "Dear Students" by Kenn Nesbitt.
We plan to continue sharing poems for enjoyment each week. If you have any poems you enjoy at home, we'd love for you to bring them in to share in class!