Harvest Celebrations
Harvest Celebrations
15 October 2021 (by admin)
As part of our Harvest celebrations this, we have been focusing on how we can 'make a difference' to the lives of others. Your generous contributions to our food collection has certainly made this possible!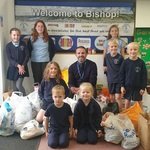 Thank you to everyone that managed to send in some food or other essential items for our collection.
After our assembly in the week, the children reflected on the important themes of Harvest and their school value of 'empathy'.
'The harvest festival is celebrated after the harvest moon to give thanks for the harvest. It makes you realise how lucky we are not to go hungry and have lots of nice food to eat unlike some people. At Bishop we can make a difference because we show can show real empathy (one of our school values) by donating food to people who sadly, don't have as much as we do.' William- Pioneers.
The picture shows some members of our new School Council with the collection that will be donated to HITS.