Science
Science
5 November 2021 (by admin)
This week we have started our new learning unit about the digestive system.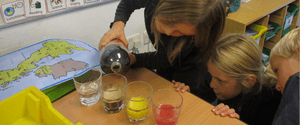 In our first lesson, we set up an experiment to find out how drinks affect our teeth. First, we placed eggshells in a variety of liquids, e.g. fresh orange juice, high-sugar orange cordial, fizzy drinks, vinegar, etc.
The children had to predict what would happen to the eggshells. Everyone was incredibly curious and the children asked great questions throughout the lesson.
We are still waiting to find out the results...