School Trip
School Trip
4 March 2022 (by admin)
During the last week of half term, we visited Newton Abbot Museum and Newton Abbot Library.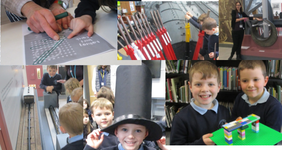 The children had a fantastic time and represented our school brilliantly. In the museum, we explored their railway collection and found out more about Brunel and the Atmospheric Railway. We also got to handle lots of sources of historical evidence which helped us to learn more about the Great Western Railway. Our favourite part was using the train signal levers!
In the library, we visited their Railway Room which boasts thousands of books about the trains. The children took part in some fun activities here, such as building a bridge strong enough to hold a book as well as completing puzzles to solve a railway trail.