Healthy Teeth
Healthy Teeth
16 March 2022 (by admin)
This week we have been promoting good oral health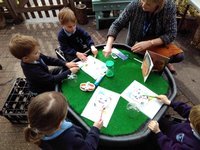 As part of Science Week, we have been finding out how we can keep our teeth healthy and strong.
We have enjoyed exploring our dentist role play, taking on roles and developing our talk and communication skills.
We shared lots of stories and researched our key questions by using the internet and our new non fiction books.
Brushing our pretend teeth was great fun, we kept brushing until our two minute timer had finished!
We also spoke about having a healthy balanced diet and where possible, how it is better to drink water in-between meals.
,How do you keep your teeth healthy?