Inter House Competition results for Spring 2022
Inter House Competition results for Spring 2022
1 April 2022 (by admin)
The results for the competition this term were read out in celebration assembly today.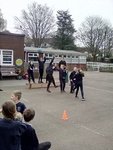 The children were fantastic over the last two weeks. They showed amazing collaboration and resilience as each class competed in different challenges to earn points towards their house.
As a school, we were especially proud to be told by Tim Flint and David Palmer how beautifully behaved the children were.
The points were very close and are shown below:
Plym - 3088
Teign - 2809
Exe - 2803
Dart - 2585
Congratulations to all, and to Plym who are this term's winners!