KS1 Sports Day
KS1 Sports Day
22 June 2022 (by admin)
A huge well done to all of KS1 who took part in their very first Sports Day today.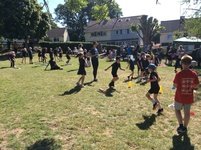 The children had a fantastic time taking part in all of the activities and it was wonderful to see so many parents and carers turn up to support them.
A big thank you to Tim Flint and David Palmer from Dynamic Sports who supported us in making this event happen.
The scores have been added up and will be added to the results from KS2 Sports Day on Friday. The results will be revealed next week.