Thank You Buddies!
Thank You Buddies!
20 July 2022 (by admin)
The Explorers have been very busy creating special cards to thank their buddies for all their care and support this year!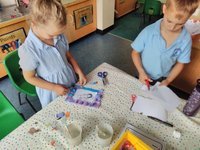 The buddies have played an integral role in helping the Explorers make a happy and positive transition into school life. They have shown maturity, care and a real nurturing attitude. We can't thank them enough. We know that these friendships will continue into the future. Thank you buddies and good luck!