Art Workshops
Art Workshops
27 January 2023 (by admin)
This week KS1 and KS2 enjoyed a number of very creative, fun and educational Art Workshops led by our local artist Brian Taylor.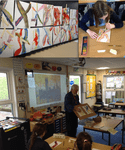 Each year group focused on the art movement they are currently studying. During these workshops' children explored:
*Blending primary colours into secondary colours
*Wet into wet blending
*Warm and cold colours
*Contrasting colours and textures - using long strokes for flat and more stippling for hills (sky/ground)
*Different stroke techniques: short/bold strokes of colour
*Tilting paper to support the ways colours run/blend.
*Accepting 'Happy accidents' - that this is okay and can often add to a painting!
Here's what some of the children said about the experience:
Natalie (Y5) - I really enjoyed the workshop and I was fascinated by Brian Taylor's paintings. Some of the techniques we used were: tilting to blend colours, mixing primary colours into secondary colours and using sponges/cardboard to create different strokes and textures. I really liked my work because I had lots of 'happy accidents' but that's what made my artwork look different but still beautiful!
Joe (Y6) - I enjoyed the workshop as Brian Taylor is a very talented artist and he taught me how to use beautiful techniques in my own work. I used the wet-to-wet technique where you put water on the page first and add colours. When they mix it makes fascinating patterns! I was really proud of my blending in my work as I think I ended up with some really lovely colours.
Lana (Y6) - I really enjoyed doing this workshop with Mr Taylor as he was really good at demonstrating techniques and he helped me with tilting my page and adding water to make the colours softer. I really liked the wet-to-wet techniques because it made really cool patterns on my beanstalk. I used a sponge for some of my work too because it made good textures. I made a few happy mistakes in my work but I really loved how my beanstalk turned out