INTERHOUSE COMPETITION
INTERHOUSE COMPETITION
13 March 2023 (by admin)
Today marked the second day of Inter House competition activities.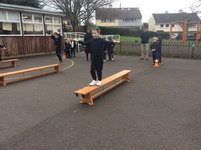 Children in Adventurers, Investigators, Discoverers and Voyagers all took part in activities to earn points for their house. They braved the questionable weather and had a great time. KS1 children took part in a rotation of activities which involved lots of the skills they had learned in PE. KS2 children played a competitive dodgeball tournament. All children were really supportive of one another and cheered on their own houses, but also their friends in other teams.
The results and winners will be revealed in assembly this week.
Well done to everyone!