Shapes everywhere!
Shapes everywhere!
2 November 2018 (by admin)
This week we have been learning about 2d shapes.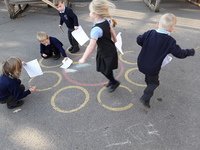 We had fun being 'Explorasaurs' looking for 2d shapes. We used our spotting sheet to match, name and describe the faces of objects. We even used tally marks to record how many of each shape. Later, we looked at the photographs and sorted our photographs into sets linked to the number of sides. Great learning!